ABC Quality Scholarships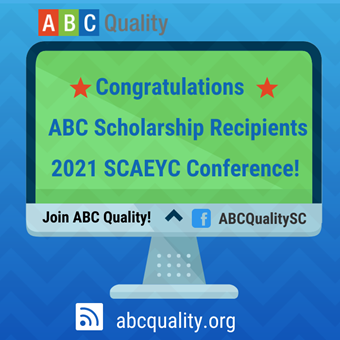 More than 360 early childhood educators employed at participating ABC Quality early childhood programs received professional development scholarships to attend the 2021 SCAEYC conference this year.
Scholarship recipients can use this training to meet Child Care Licensing training requirements, ABC Quality standards and increase the overall quality of care at their early childhood programs.
To learn more about ABC Quality visit https://www.abcquality.org/.
---
The Marian Wright Edelman Advocacy Award
The Marian Wright Edelman Advocacy Award is designed to honor a person who has made a significant contribution that changes the lives of children in positive ways.
Marian Wright Edelman is a native South Carolinian and the director of the Children's Defense Fund.  Her advocacy efforts for children are known worldwide.  The South Carolina Association for the Education of Young Children chose to honor Dr. Edelman by naming an award in her honor.
The award is given at the SCAEYC Annual Conference only when the name of a deserving candidate has been submitted to the SCAEYC Governing Board.
*The persons recommending the candidate must submit two (2) letters of support to the SCAEYC Board before the last board meeting prior to the annual conference.  The board reserves the right to accept or reject any candidate by the vote of a quorum of its members.
We are proud to announce that Dr. Sally McClellan was nominated and has won this award during our 2021 conference.
---
Click here browse to the 2021 SCAEYC 100% Virtual Conference: The Big IDEA (Inclusion, Diversity, Equity and Accessibility) info page to learn more and to register.